Russian customers visited Faroad factory due to the charm of CPM-II, click here for more details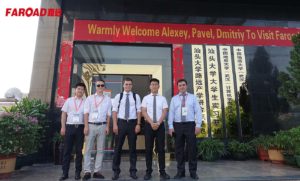 Warmly welcome the Russian clients Mr. A, Mr. P, Mr. D to visit Shenzhen Faroad. On August 29th,they inspected the production and technical situation of our company with Mr. Jia the president of Faroad and Mr. Huang the director of foreign trade department. Furthermore, they had a detail discussion with the respect to the later cooperation.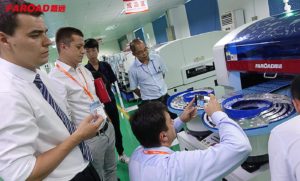 Firstly, Mr. Jia introduced the situation of Faroad to Russian clients such as the research & development ability, technological level, solution, product and so on. Moreover, in the company of Mr.Jia and Mr.Huang, the clients visited the research & development (hard/software)department, manufacturing department , technical test department. During the period our professional engineers showed them the latest products, what is more important is they were satisfied with our products through practices by themselves. Then both of the companies had a deep communication and reached the cooperation intentions at last.entions.
The visit of Russian clients is another example of our actively exploit for international market. their visit not only enhanced our communications with foreign clients, but also placed a solid foundation for promoting the pick-and-place machine of Faroad into the international market. Furthermore, we will continue to extend the international market to make our products more attractive by foreign clients.