Faroad got a new award, guess what's the meaning of this award ? Click here for more details.
2017 is the year to elevate the Quality of Shenzhen , meanwhile, at this year the SAQ has also established for 30 years. During the past 30 years, Shenzhen translated from "Shenzhen speed" to "Shenzhen quality".
Many excellent enterprises with artisan spirit begin to pay more attention to quality, as well as focus on research and innovation. They have been specializing in a segment field for many years and have made respectable achievement, as a result, they are actually "Invisible Champion".
In order to honour excellent enterprises and set good examples for others, the SAQ decided to confer the title of "Invisible Champion" to Faroad and 9 other companies according to recommends from the industry association.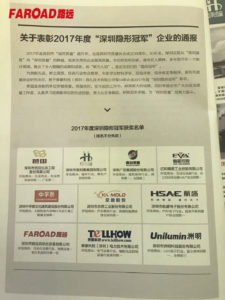 The SAQ hoped that award-winning enterprises will treasure the honor and make persistent efforts to get even greater achievements in the near future. As well, other enterprises and workers for ensuring quality could learn excellent experiences from the award-winning enterprises, then to make their own efforts for "Shenzhen Quality".